By Yoav Sadan December 5, 2016
British-American investor and businessman John Templeton once said "The four most dangerous words in investing are: 'this time it's different.'" Templeton was saying, follow market trends and history.
It is clear that the recent trends and history of Chinese investments and acquisitions in Israel are an essential guide for those seeking Chinese capital. From 2012 to 2016, both investments in, and acquisitions of Israeli companies by Chinese corporations have been immense. Investments have passed the $700M mark, and acquisitions were $300M larger, just shy of one billion dollars.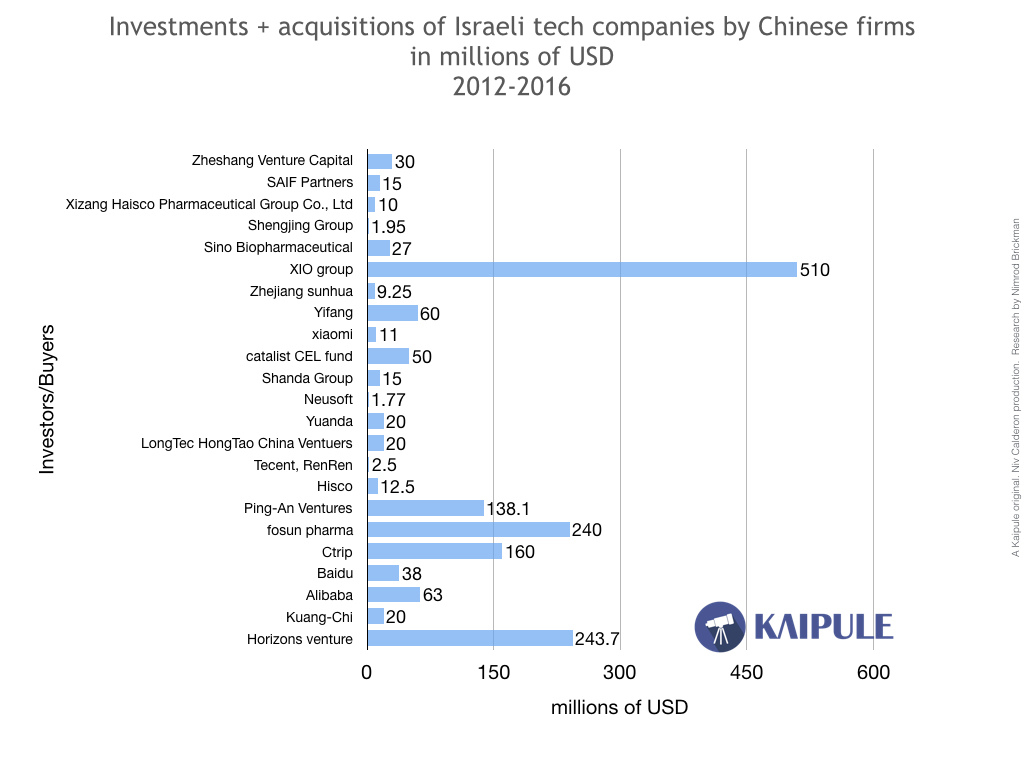 Don't let that huge bottom line confuse you
However, $990M was only spent on five companies. Out of these five, $510M went on the Lumenis deal, and $240M went to Alma Lasers, both companies specializing in medical technologies. The rest of the money was split on AutoAgronom, travelfusion and Pegasus Technologies.
Yes the numbers are bigger. But they were spent on a smaller number of companies, and an even smaller diversification of the Israeli start-up industry, with medical technology by far the most dominant vertical.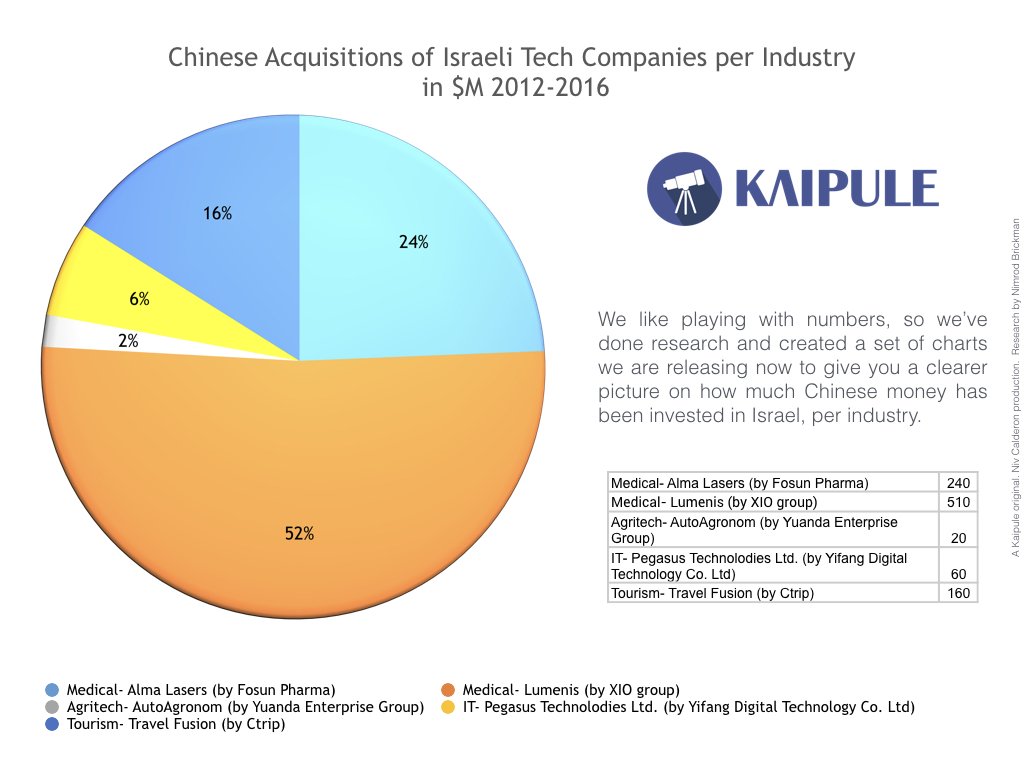 Trends
Interestingly, although Chinese investments were $300M smaller than acquisitions, the funds were spread through twice as many fields, and over more than 50 Israeli companies.
Medical technology is still the dominant category of Chinese investments in Israeli technologies, with $150M invested. However, it represents a far smaller piece of the pie.
For cyber, big-data, navigation, mobile and agritech, things are looking much better when it comes to investments.
It is fascinating to see how Chinese companies are reacting to one another, and to global investing trends in Israel. After Alibaba invested in Quixey, Baidu went and invested in Taboola, both are big data companies. In 2014 SAIF Partners invested in Supersonic, and a few months after, Ping An Ventures invested $85M in Ironsource. This was before the merge of the Israeli companies.
Investments from China in Israel likely to continue growing
To put it simply, acquisitions and investments from China are in a very good place for Israeli entrepreneurs, and most likely expected to grow, but it is highly recommended to be very patient.
Relationship-building takes time, negotiations can move very gradually, especially with Chinese companies, which we talked about it in our last article, 12 Tips for Entrepreneurs Aiming at China.
Recommendations
Do your homework; make sure to acquaint yourself with the potential investing/acquiring company. What were their recent actions? How did similar VCs act within the Israeli startup scene? In other words, learn the trends and history.